10 Landing Page Tips to Drive Conversion
So you've done your homework when it comes to SEO, Adwords, keyword optimization techniques and everything you need to get people to your website and convert them into customers; but what happens to those customers when they land on your website? If they are landing on your home page, your blog or even a product page, you're missing out on a big opportunity to convert these visitors to customers. Sending customers to a specific landing page that is optimized for each marketing campaign is as important as the email subject line of your email marketing campaign. You have to spend time getting it right to ensure that visitors find what they're looking for and convert.
"Online advertising that uses landing pages typically sees a conversion rate improvement of at least 25%." ~ Omniture
Landing pages are designed with only one thing in mind: to facilitate the conversion, making users complete the action that was alluded to in the call to action (CTA) that drove them to the page. These pages are ideal for routine purchases, newsletter sign-ups, event RSVPs or anything else that could meet your marketing objectives. As with all website design techniques, there are certain things you need to keep in mind, such as ensuring short loading times, responsive design and using high-resolution pictures. Here are our top ten landing page tips that you can use right now to improve your offering and increase conversion rates for your latest email marketing campaign.
Maintain consistency: Maintain a consistent design theme throughout your email and web design efforts. The email should look a little like the landing page and these should both follow the same visual pattern as your branding themes. If the email presents an idea or value proposition, make sure the landing page confirms it (to maintain the visitors' interest), and furthers it with a call to action (to get them to convert). This reiteration also helps to build trust, which is essential in order to get the potential customer to share their personal information and/ or convert.


Evaluate your objectives: Before building a landing page, evaluate your objectives for this specific campaign and ask yourself a few simple questions:

Who are you targeting?
What action do you want them to take?
What is the special offer or incentive you want to promote?
What USP/ advantages does this offer to the customer?

Based on these answers, you can decide on the call to action for the page, as well as any essential information that is appropriate.


Keep it simple: This point applies to both overall design and the text on the page. Keep it short - use bullet points if you need to - and cut out any unnecessary chatter. The goal is to make the hero of the page the CTA.


Stay focused: Ideally, a landing page should be used to meet a business objective and should, therefore, have a single focus. This means that the page should have a single CTA too. The less distractions on the page, the more chance there is of the conversion taking place. A landing page should not include any navigation menus at all. If you do include links other than the call to action, make sure they are not the focus on the page, as you do not want the traffic to "leak" to other pages without a conversion taking place.


Information such as your offer, information pertinent to the offer and the call to action should be placed in a simple way on the top half of the page, above the fold. Reduce the entire content to the most important elements, so that there are no distractions for the visitor. If the CTA must be below the fold, ensure that you use a directional cue of sorts, by bolding the text or creating a noticeable button in order to bring attention to it. Create a simple visual flow to guide the traffic in a way that will stimulate a rational need to take action.


Make it easy to use: If the CTA is encouraging the potential customer to sign up for something, position the registration form in an eye-catching place within your page. Make it stand out from the page so that it is clear what information the user must provide. Try to keep the number of required fields to a minimum, it is best to only request the data you actually need from the customer, avoid requesting the data that is merely a "nice-to-have". The call to action needs to be simple enough that the user doesn't have to think too hard, it should be a natural step.


Create a short catchy URL: Consider the landing page URL - it should be catchy and describe what the product/ service/ offer is. Keep the URL short but feel free to get specific, as long as it makes sense and it doesn't look "spammy".


Use Video: Where possible - and relevant - try to use a short video to convey your message/ offer. Using videos on landing pages can increase conversions by 86%, according to a study done by Eyeview.


Give it credibility: Use a testimonial or a customer review when you can; not only does it look professional but it also adds to your brand's authenticity. Proudly display any partner logos, social media channels and company contact information (including a phone number). Showcasing your partner logos helps to build trust through association.


Personalise the landing page: If you have the customer's data to send them a personalised email, then you can also pull it onto the page via the query string in the link. This means you are able to pre-fill forms or make a personal address to the visitor. This can be very impressive for the user, who will see the personalization as a measure of familiarity with the brand and can help to increase conversion rates.
And finally, once you have followed these landing page optimization tips, you can start to test different variables and metrics in order to determine the best conversion tactics for your audience. You will need to use a control landing page, do split testing by changing the variables for some of your audience and then watch the performance statistics between the different variables.
Understanding the various elements of the page and how each one will suit your audience is an important part of the process.
Make sure you design the page to be modular so that changing different variables is easy and you can experiment methodically. This process of optimisation is the main tool you can use to turn into a proficient landing page creator. Take a look at this handy check-list by Unbounce for optimal landing pages and see how well your landing page is doing.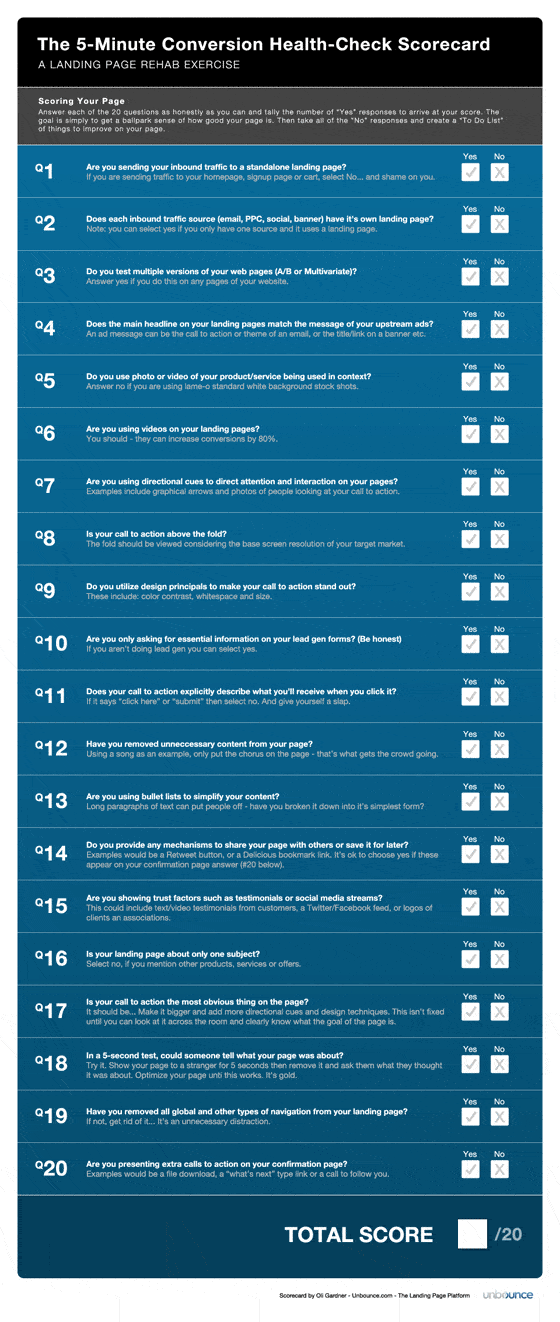 Like this post? Get your free trial today.

TotalSend SMS and Email Marketing